Facilitates the work process, improves the efficiency of your team, 100% transparent financial management
With Fashion Point, managing customer reservations is fun and joy
The fastest, easiest and most intuitive online booking management system.
Coordinates and synchronizes the work schedule, work hours of specialists in cabinets and equipment: static or mobile.
Track real-time financial movements, booking or sales revenue, expenses and expense rates.
With the online capabilities of "Fashion Point", you can share your services even closer to your customers by enabling the option for online reservations through a Web site, Facebook or FashionPoint page, as well as through any other online-based platform.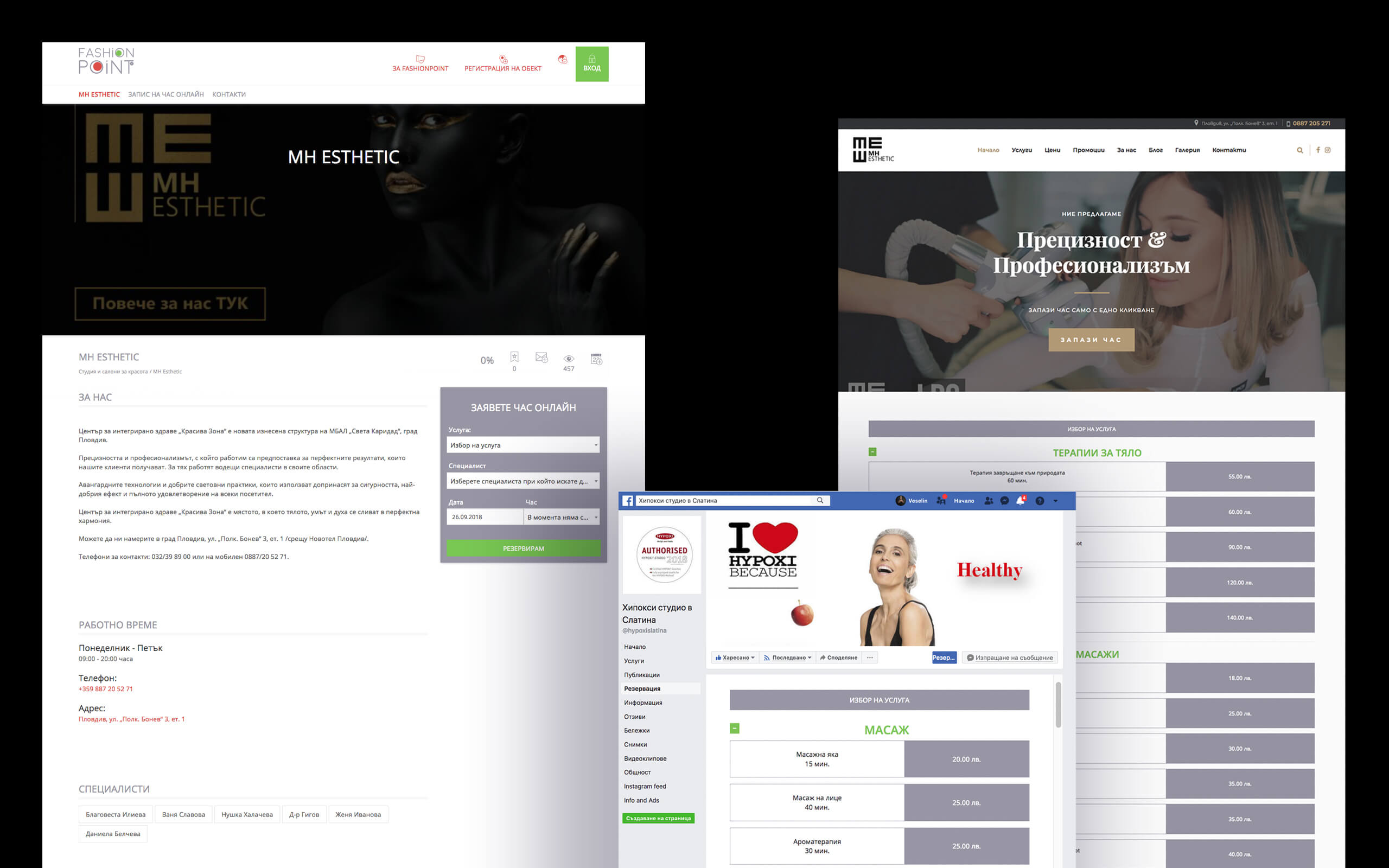 Each of your specialists has individual access to his schedule for monitoring and managing their work hours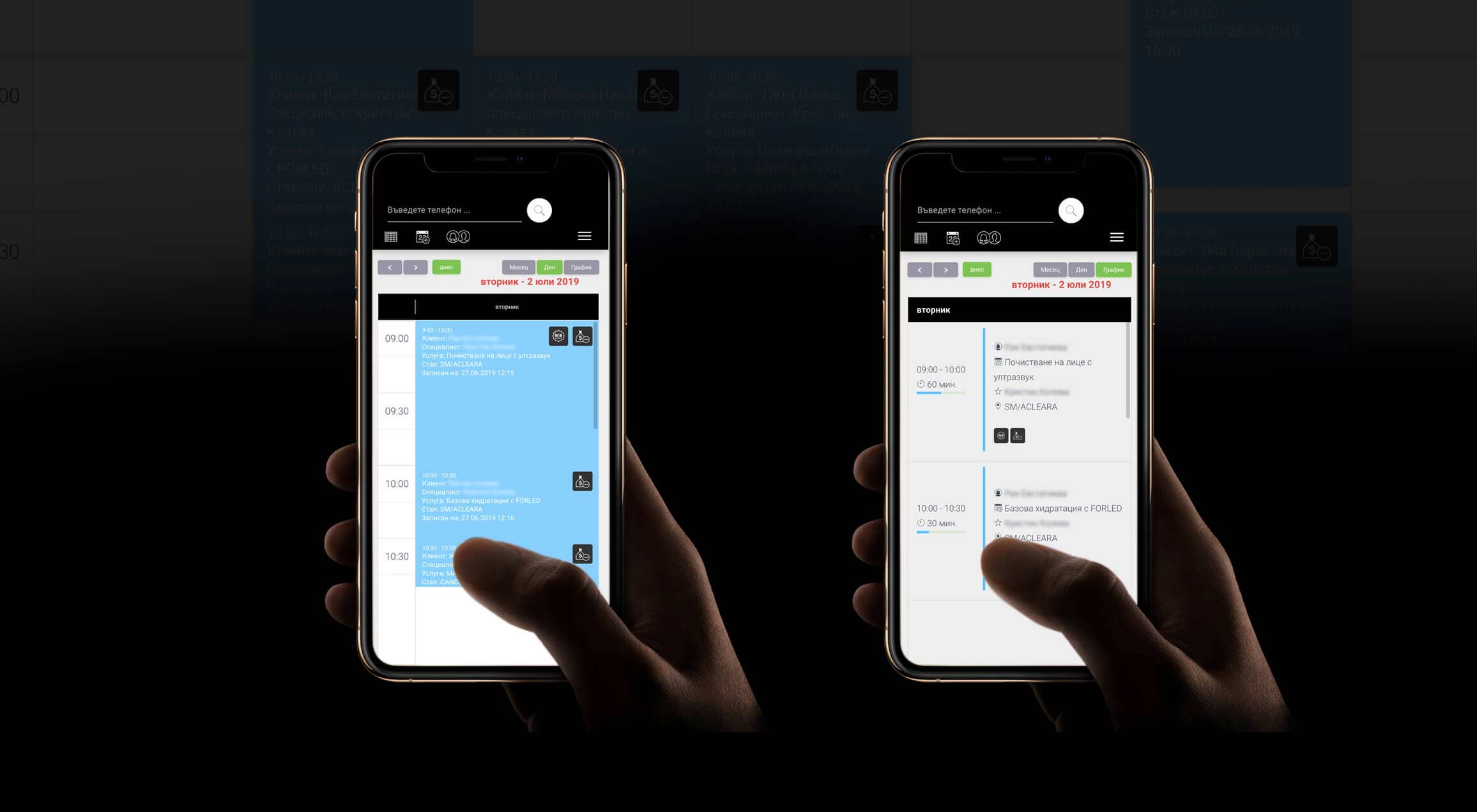 Another way to reduce work stress is to provide individual access to your specialists to the system and their reservation calendar. Let them monitor their earnings and analyze their turnover. This will save a lot of time.
"Fashion Point" has a clean and lean web interface that makes online planning of customer bookings quick and easy.
We have solved the problems of the clinics and centers that coordinate their client reservations, except for specialists and the occupancy of offices with static or mobile equipment.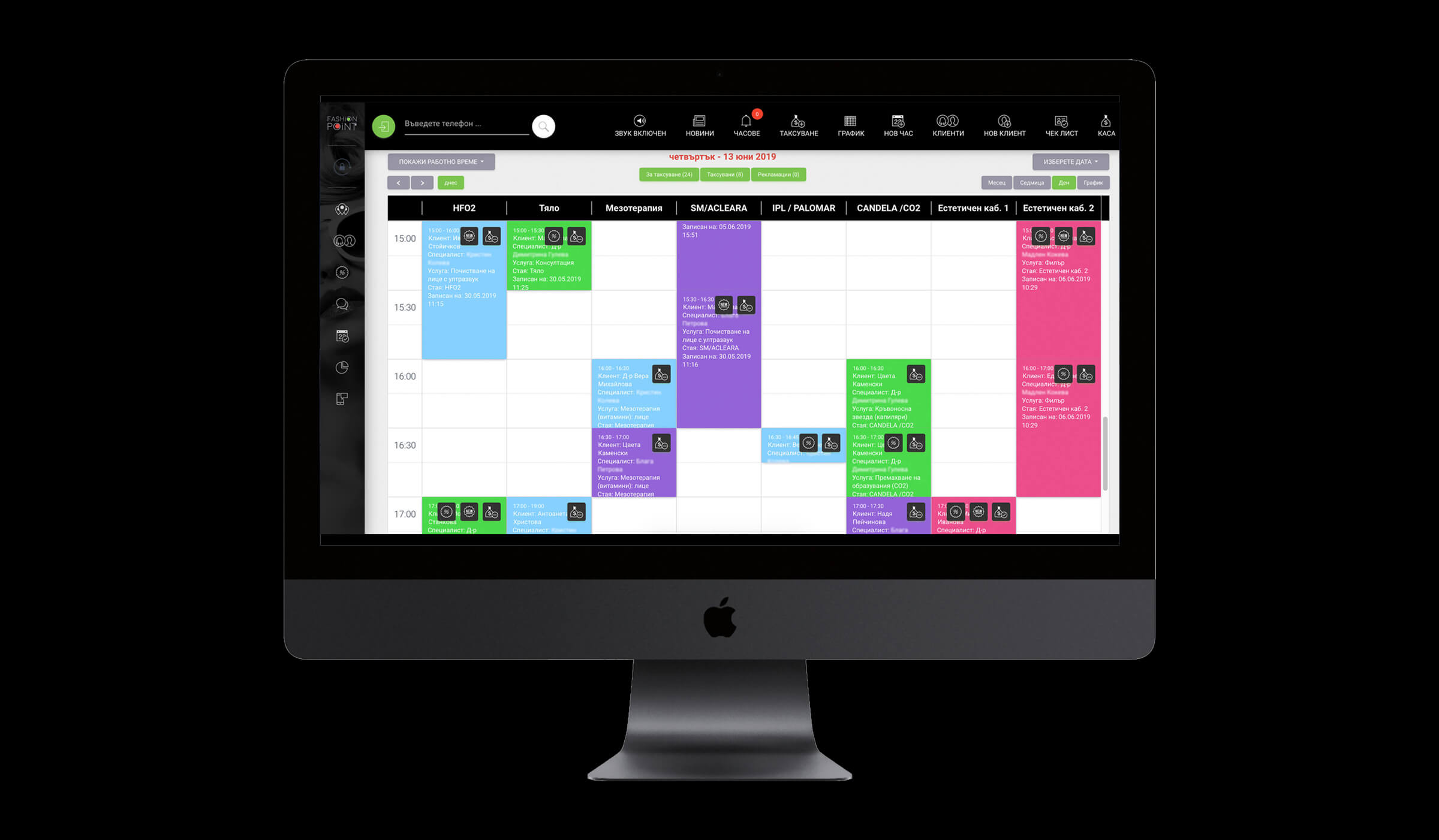 With our smart calendar you can plan your reservations extremely easily
Step 1: Enter a phone number.
Step 2: Choose a client and the desired service.
Step 3: Choose a specialist and the desired date and time of the reservation.
Step 4: Based on the selected procedure and occupancy of your cabinets, the system gives you information about the free schedule options.
Sounds amazing and impossible to you?
"Fashion Point" knows from the moment of choosing a service what type it is, whether your specialist will use a specific mobile or static device, as well as in which cabinet it can be performed.
Fashion Point gives you the freedom to focus on the satisfaction of your customers
Less work stress for employees
Online reservations
Through our online real-time booking system, you allow your customers to plan for themselves the opportunity to book a reservation according to their needs and your reception capabilities.
No duplicate reservations
Reservations made by customers are automatically added in real time to your online schedule - calendar, without the prerequisite for duplicate or impossible to fulfill their reservations.
All the information in one place
Using "Fashion Point" your employees will not have to keep notes of the completed procedures to calculate daily fees, our online system with just one click can give information about which of your employees has what earned wages, as well as a quick opportunity to get it paid off.
No unnecessary documentation
No more keeping dozens of Excel and paper spreadsheets to track promo packages, revenue and expenses.
Transparent cash register
We offer you a brilliant opportunity for your financial fund to be accurate and transparent. With just one click you can track the movement of your current turnover, the types of income and expenses justified by a detailed analysis.
Earn free time
By using "Fashion Point" you save a significant amount of time from unnecessary paperwork and correction of mistakes in its management. In one year you save time equal to a 10-day trip!
End the problems coming from paper reservations and inappropriate software
Business efficiency
"Fashion Point" is your unique and smart assistant for coordinating reservations, with it when you plan your schedule you move your business in the right direction.
When you use "Fashion Point" for your aesthetic clinic or center, you know 100% that all the functionalities of the system are consistent with the concept of development and management of such a branch business.
Fashion Point is not just software that plans reservations like most on the market.
"Fashion Point" contains a marketing concept that will develop your business and solve common problems.
The perfect customer reservation
Each reservation is tailored first to the specialist, second to the service and third to the staff and cabinet (in case you use them).
This way, when you have a canceled reservation, there is no breakdown in your methodology and you do not have to delete reservations again with a proofreader and organize the remaining reservations.
At a glance you can see all the free hours for new reservations, without having to scroll through the paper calendar.
Customers closer to your practice
Minimize missed bookings
SMS/EMAIL notification
The online system offers manual or automatic notification by e-mail or SMS for the reservations of your customers. Your customers will be grateful to you and your employees' schedules will not be missed or scheduled at inappropriate times.
Customer files and history
You have full information and details about the upcoming reservation and client from the moment of their creation. All customer remarks, personal card, gallery of procedures, information about upcoming or past procedures, valid promotional discounts. Available with just one click.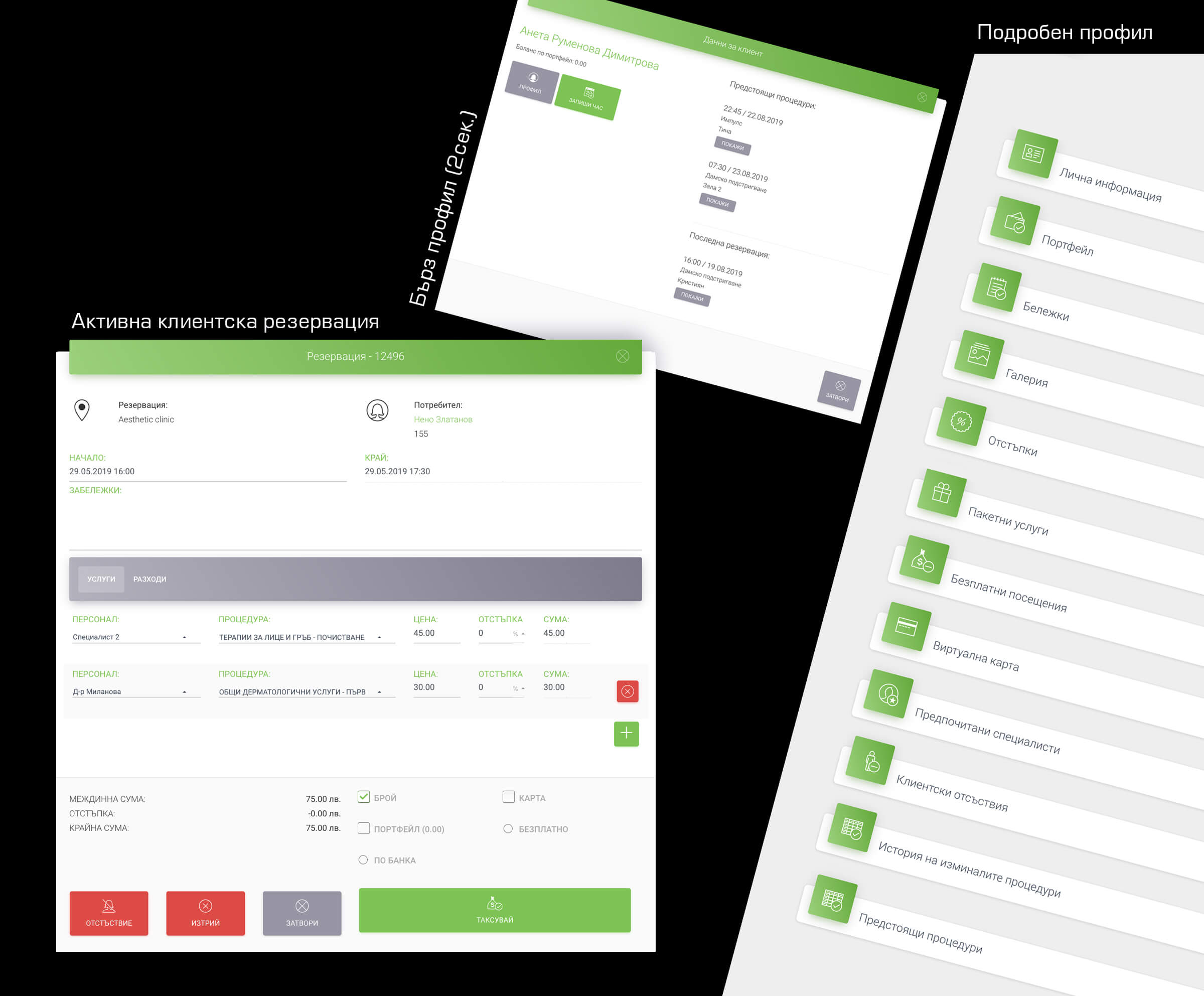 We ensure and optimize the reliability of your data
We can very easily and quickly synchronize and transfer your internal company data for procedures, employees and customers, guaranteeing 100% of their security and complying with the strictest standards for protection and security under the GDPR. "Fashion Point" is also a licensed personal data administrator 3rd degree. We have met the standards for management and protection of personal data with high information sensitivity, which we skillfully encrypt and store. Automated ability to transfer personal data from "Fashion Point" is reduced to 100%.
How Fashion Point works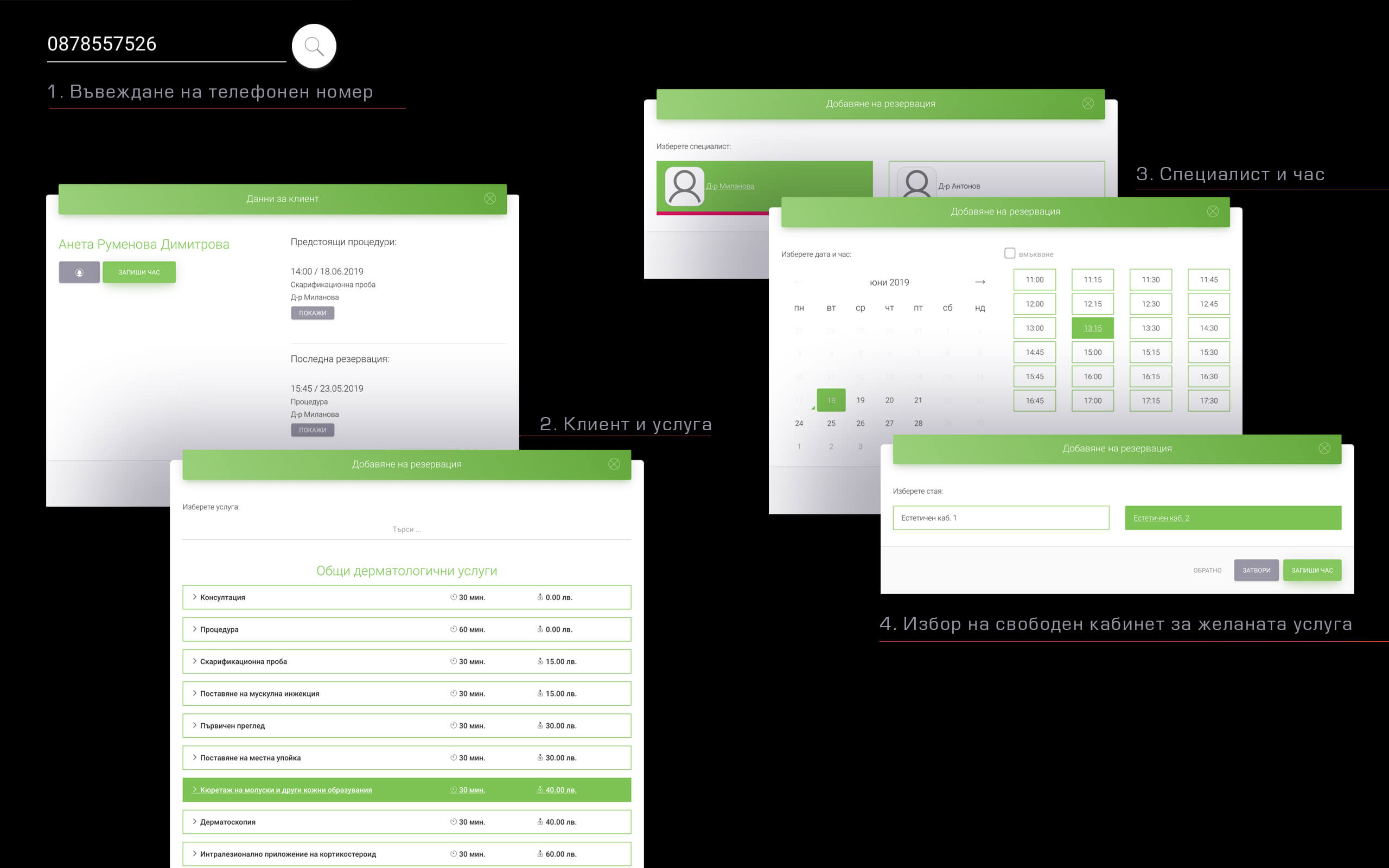 In "Fashion Point" we have built a very good business concept for the whole process of servicing your customers, as well as the correct evaluation and efficiency of the service you offer.
Step 1: Enter the customer's phone number;
Step 2: Choose to add a new client or select an existing one followed by an option to save an hour or work with a client file;
Step 3: Creating a client reservation by choosing the desired procedures, specialists and, if necessary, a free office for the pre-selected day and time;
Step 4: Charge the completed procedure and issue a receipt or invoice;
Step 5: "Fashion Point" now knows the whole process of a given reservation: income, expenses and proper distribution of fees.
Based on this concept, we build and provide various marketing tools and opportunities through which you manage a successful business with future prospects.
Of course, this is not all, but it is in 1st place.
With "Fashion Point" you manage your business smart and optimized
Marketing development tools
We give you the opportunity to generate different rules for discounts and promotions:
Management of customer groups with discounts.
Option to generate promotional bundle packages.
Voucher generator.
Module for creating and client request of packages for health tourism.
Virtual customer portfolio with cash and credit.
And many other additional bonus options for your customers and employees.
Marketing analysis tools
The specialized sector offers you various detailed marketing tools to track the development and management of your business.
Detailed daily, monthly or periodic reports will allow you to easily and quickly track the performance of your services, employees and turnover.
You have information about your popular services, your most desired employees, as well as what method your customers prefer to use for booking, online or offline.
Calculate and pay your staff salaries with one click and less than 1 minute
Maybe your specialists charge a different fee for each service?
Fashion Point offers a flexible distribution of the fees of your specialists. Each of them can receive wage or a percentage cut, and why not a wage + percentage, and why not different wages according to the generated turnover - you name it.
Do you use cost norms before the distribution of the fee?
No problem. Fashion Point knows how to calculate this type of fees.
The possibilities for calculations are expanded and they can interact even with services that are of a promotional nature.
Protects and manages the personal data you enter in accordance with the strict directives of the European Union. All information is 100% encrypted in real time as you enter it